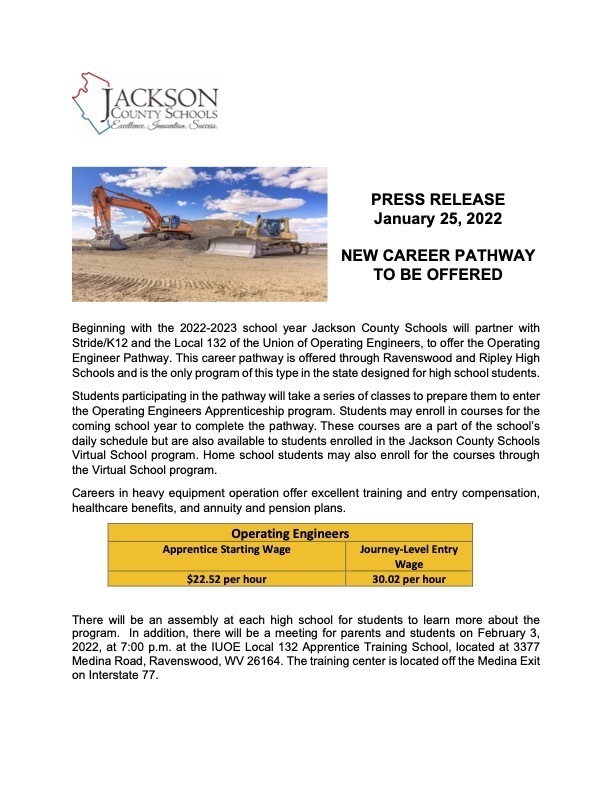 PRESS RELEASE January 25, 2022
NEW CAREER PATHWAY TO BE OFFERED
Beginning with the 2022-2023 school year Jackson County Schools will partner with Stride/K12 and the Local 132 of the Union of Operating Engineers, to offer the Operating Engineer Pathway. This career pathway is offered through Ravenswood and Ripley High Schools and is the only program of this type in the state designed for high school students.
Students participating in the pathway will take a series of classes to prepare them to enter the Operating Engineers Apprenticeship program. Students may enroll in courses for the coming school year to complete the pathway. These courses are a part of the school's daily schedule but are also available to students enrolled in the Jackson County Schools Virtual School program. Home school students may also enroll for the courses through the Virtual School program.
Careers in heavy equipment operation offer excellent training and entry compensation, healthcare benefits, and annuity and pension plans.
There will be an assembly at each high school for students to learn more about the program. In addition, there will be a meeting for parents and students on February 3, 2022, at 7:00 p.m. at the IUOE Local 132 Apprentice Training School, located at 3377 Medina Road, Ravenswood, WV 26164. The training center is located off the Medina Exit on Interstate 77.
Operating Engineers

Apprentice Starting Wage

Journey-Level Entry Wage

$22.52 per hour

30.02 per hour